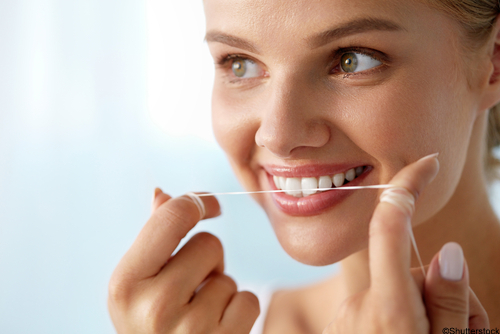 Whether you believe it or not, you need to floss at least once a day to keep your smile in tip-top shape. Unfortunately, there are many people who forgo their flossing routines and head straight to bed. If you're one of these people, it's time to change your ways. Flossing is extremely beneficial for your smile. To help you make flossing a top priority, our Brush Pediatric & Family Dentistry dental team will be happy to tell you about those benefits.
The best thing flossing can do for your smile is to reduce plaque and bacteria buildup in your mouth. This is because these substances promote and create gum disease and tooth decay. Oftentimes, your toothbrush will thoroughly scrub the surfaces of your teeth but it won't properly clean the hard-to-reach areas of your mouth, like the cracks between your teeth. This is when flossing comes in handy. Flossing can help you remove the plaque that lives in those spaces.
Another benefit of flossing is that it can help prevent and eliminate bad breath. Sometimes bad breath is caused by odorous food particles that are stuck between your chompers. If you try to fight bad breath by flossing, the odorous food particles can be washed away from your teeth and you can have your pristine and fresh breath once again.
Lastly, flossing can help you avoid embarrassing moments. If you floss your teeth after you eat, you can avoid having a food-filled smile, which can decrease your chances of having embarrassing food-stuck-in-your-teeth moments. The more you floss, the cleaner your teeth will be.
Do you have questions about flossing? Would you like to know more about flossing? If so, feel free to call our office at 580-233-0043 at your earliest convenience. Our dental team will be thrilled to tell you all about flossing in Enid, Oklahoma. We can also demonstrate the proper flossing technique if you schedule an appointment with Dr. Tim Fagan and Dr. Chris Fagan. We are happy to help you!